Gift Book Ideas for the Holiday Season
The holiday season is coming up, which means it's time to find the perfect gift for the book lover in your family. If you've been wondering what to get them this year, consider one of these great gift book ideas! They might have every book under the sun, but a custom book gift is sure to become one of their favorites in their collection.
Great Gift Book Ideas
Custom Book Boxes
Book boxes are perfect as a home for a favorite book. Book boxes can be designed to fit any book's dimensions and can be customized outside and in to match the character of the book. This is a great way to add a personal touch to someone's favorite book without altering the book itself. Book boxes also offer great protection for books from damage.
Family Tree Books
For the family historian, a family tree book makes a great gift. Bring together all those old photographs, documents, and other written personal effects in one place to create a comprehensive book of your family's history all in one place. This is a great sentimental gift that will be treasured forever by the recipient.
Custom Journals
Know someone who still loves to do their writing with pen and paper? Get them a custom journal! The writer in your family or circle of friends will love this gift.
Custom Photo Albums
These days most of us have all of our photos on our computers. Why not get them off the hard drive and onto the page with a hardback binding? A custom photo album is a great way to bring those digital photos to life, and makes a great gift for any family member.
Shadowboxes
We also do shadowboxes to commemorate and protect sentimental possessions. This is a great way to recognize military service.
Graduation Gifts
Is your son or daughter graduating after this semester? Custom books also make great graduation gifts!
Gift Certificates
If you can't decide, don't worry, we offer gift certificates as well.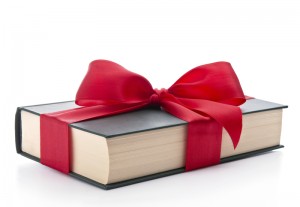 This holiday season, give your family and friends a gift that is meant to last. To learn more about our gift books, contact us today!