Case and Hard Cover Binding Services from Advantage Book Binding
For print material that needs a durable, professional housing, case binding is the ideal solution. Case binding is the process by which hard cover books are made. Hard cover books have a number of advantages, not the least of which being their durability. Their professional finish, combined with the options available for customization of hard cover books, makes this style of binding the best choice for all sorts of different projects. Learn more about case binding and hard cover books in our blog!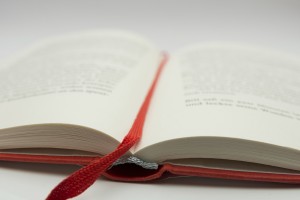 Case Binding
In case binding, a book block is put together out of pre-collated, pre-cut loose sheets or gathered signatures. The sheets/signatures are then either bound into a book block or collected and sewn along the spine of the book. At this stage in the process, special finishing techniques such as marbling, foil stamping, or round cornering are added.
We offer a number of different styles of case binding, including the following:
Smyth Sewn Hard Cover Books
Smyth sewing involves sewing thread through the backfold at the spine of signature and repeating the for every signature. The result is the strongest and most durable binding available. Smyth sewn books will also lay flat when opened.
Adhesive Bound Hard Cover Books
This binding style makes use of perfect or PUR perfect binding signatures and covering them with a hard cover case. Great for binding digitally printed runs.
Fully Concealed Wire-Bound Hardback Books
This binding style combines case and mechanical binding to create a durable, lay-flat book. The wire-O binding here is covered with the case binding, which protects the wire and gives it extra durability.
Hard Cover Binding Projects
Hard cover bindings are ideal for the following projects:
Reference books
Law books
Custom books
Yearbooks
Children's books
Coffee table books
Medical books
Finishing Options
There are many special finish options for hard cover case-bound books. We offer:
Foil stamping
Round cornering
Film laminating and UV coating
Dust Jacketing
Handwork
And more
To learn more about case binding and hard cover binding, contact Advantage Book Binding today. Advantage Book Binding can help you take your book binding project to a new level, taking into consideration budget requirements to provide you with the most cost-effective and project-specific solution for you. Please contact us today for more information, and keep up with us on Facebook, Google +, Twitter, and LinkedIn.