Book Binding Options: Should I Use PUR or EVA Binding?
When choosing how to have your book bound, you'll have to decide whether to use PUR or EVA binding. Some simply prefer Ethylene Vinyl Acetate (EVA) binding because that is what was mainly used up until the 1990s. Polyurethane Reactive (PUR) wasn't even developed until 1989, so it's easy to see why some "purists" just want to stick with EVA. In today's blog, we explore the pros and cons of each to help you decide which is right for your project.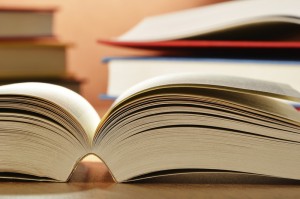 Book Binding Options: Should I Use PUR or EVA Binding?
EVA Book Binding
EVA is a hot melt adhesive used for perfect binding. The actual properties of the glue allow it to be re-melted many times. This made it very efficient for the book binding process. EVA also has very quick set points, which allowed for a small cure time before trimming could begin. EVA is considered an acceptable application for most offset papers, but it was known for causing issues with more difficult stocks.
PUR Book Binding
The process for PUR in book binding is a little different than EVA book binding. The glue bond from PUR bonds to a book through a chemical reaction. The reaction causes the adhesive to draw moisture out of the air, so the application process absolutely must be applied correctly. The first generations of PUR required a long set up time, but the technology has vastly improved over the past decade. PUR can have formulations attain around 80% of their green strength in as little time as a few hours.
The Benefits of PUR
It's true that PUR is more expensive than EVA, which means that a lot of book binding services may just look at the price tag to make a decision. These individuals don't realize, however, that PUR is much stronger and a more flexible bond for book binding. PUR is also not susceptible to re-melting or cold-cracking issues. If an EVA book is placed in extreme heat, it could actually melt. Because of its strength and durability, it is nearly impossible to pull pages out of a PUR book. EVA has its merits for book binding, but PUR offers many more advantages and flexibility.
Advantage Book Binding
Advantage Book Binding can help you take your book binding project to a new level, taking into consideration budget requirements to provide you with the most cost-effective and project-specific solution for you. Please contact us today for more information, and keep up with us on Facebook, Google +, Twitter, and LinkedIn.